School Info
Barbara J Sperl
Elementary Principal
barbara.sperl@k12northstar.org
907-372-3306 x 31510
907-372-3199 [fax]
Address
692 Raven's Way
Eielson Air Force Base, AK 99702
School Hours
Students: 8:00 am - 2:30 pm
Office: 7:30 am - 3:30 pm
Announcements & Upcoming Events
Student in the Spotlight: Caroline Kenerson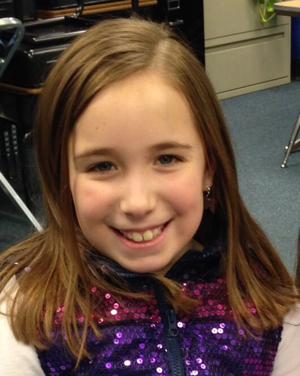 Fourth grade, Crawford Elementary School
Caroline Kenerson is an exceptional talent with a heavy dose of persistence.
Read full article
New Teacher Evaluation Process
Parents can learn more about the new teacher evaluation process and provide feedback to the district administration at the link below.
Student in the Spotlight: Jesse Dahlberg
Sixth grade, Crawford Elementary School
Jesse Dahlberg is a strong student, a positive role model and a leader.
His teachers describe him as an inquisitive and focused learner who doesn't give up once he starts on something.
Read more
Fairbanks Daily News-Miner
AMP TESTING SCHEDULE
Dear Crawford Families,
As you are aware, your children will be participating in our new statewide assessments at the end of March and the beginning of April. The Alaska Measures of Progress (AMP) is a computerized test and students will test in two areas; English language arts and Math. I would encourage you to learn more about these assessments by going to the following websites:
Parent Guides and Tips
http://education.alaska.gov.akparentscommunity/
Learn more about AMP
http://education.alaska.gov/akassessments/
See the schedule below for your child's testing date, and check with your child's teacher for more details. Thank you in advance for your support in this important endeavor.
March 30-31 Fifth Grade
April 1-2 Third Grade
April 3 Fourth Grade - Science
April 6-7 Sixth Grade
April 8-9 Fourth Grade
Revised 2014-15 Calendar
Tuesday, March 24, 2015
The 2014-15 calendar was revised in response to an inclement weather closure.
The last day of school for students has been adjusted to Thursday, May 21.
School calendars are available for subscription in any preferred calendar program.
To subscribe to school calendars:
• Visit the Calendar page on your school website
• Click boxes to customize calendar feed
• Click iCal to generate customized calendar feed URL

Jesse Dahlberg - Alaska Geography Bee State Semi-Finalist
Crawford Elementary is very proud to announce that our school Geography Bee champion, Jesse Dahlberg, has earned the right to compete in the state semifinals. On March 27th, Jesse will compete against the top 100 Alaskan elementary and junior high school students for the opportunity to represent Alaska in the national competition. The national champion will win a $50,000 scholarship and a trip to the Galápagos Islands.
Principal's Message - March 2015
Dear Caribou Community,
It was wonderful to see all of you during our Parent Teacher Conferences. We had well over 90% participation! It's a wonderful thing for our children to see that we all work together as a team, so that they get the best possible education.
Winter is on the downhill run, although we may still be in for some interesting weather. So we are asking that students continue to be prepared for the possibility of winter weather, which means full gear available here at school. With the rapid change in temperatures, it is especially important that students be prepared for anything.
Our loop drive traffic is getting smoother. Please be careful to pull up in the loop as quickly as possible so that others can enter the drive. We cannot block Ravens Way.
Students have been working hard on Science Fair projects and we would like to invite you to come and see them on Thursday evening, March 5th, from 5-6:30, during our Science and Literacy Night. We will be having reading activities, along with a silent auction, snacks for sale, and a public viewing of our student's fine work on scientific projects. You won't want to miss out on this great opportunity.
By now, you have heard that our state and district is moving to a computerized model of state assessments. Our window for Alaska Measures of Progress (AMP) as it's called, is from March 30-April 10. 3rd and 5th graders are scheduled to be testing in the first week, and 4th and 6th graders are scheduled to be testing in the second week. Your child's teacher will have more information as to specific dates and times. Please stay in close touch with them so your child will not miss out on this important event.
Don't forget to set your clocks ahead on March 8 for Daylight Savings Time!
Warmly,
Barbara Sperl

Crawford Elementary listed among the 50 Best American Public Elementary Schools
Crawford School Report Card 2012-2013
Safety Hotline
Call the Safety HOTLINE, 457-SAFE (7233) to report school related safety and security concerns. For emergencies, call 911.